This batch of brown rice is packed with fresh, herby cilantro and acidic lime flavor. It is the perfect pairing for any and all Mexican inspired cuisines! A fun fact, did you know rice is actually gluten free? That means this recipe has no gluten in it! Win win!
Nate and I have a MAJOR Chipotle obsession and could probably live off of their burritos and burrito bowls. One of my favorite parts about their burritos is their cilantro lime rice that get packed inside. SO, naturally I had to try to conjure up my own at home. I decided to keep it super simple and only included three ingredients! Yup, that's right! Tons of flavor with just three ingredients!
We pair this rice recipe with a lot of different meals. We love making burritos with it, enjoying some on the side for taco Tuesday, or packed inside or on the side of some enchiladas! You really can do whatever you want with it! The ULTIMATE side dish!
Ingredients:
Kitchen Appliances:
The Steps:
This recipe is so easy to make and only requires a few easy steps. We are huge fans of using a rice maker when it comes to making our rice! All you do is put the rice in along with chicken broth, turn it on and let it go! You want to cook the rice depending on the directions with your specific rice maker as they all are different!
When the rice is cooking, chop up the cilantro. I personally add the stems in too. The stems of the herbs contain the most flavor, so to really make sure that flavor is evident, I add them in!
Once the rice is done, add in the cilantro and the lime juice. Stir in, fluffing the rice as you go. Once it is all mixed in you are ready to go!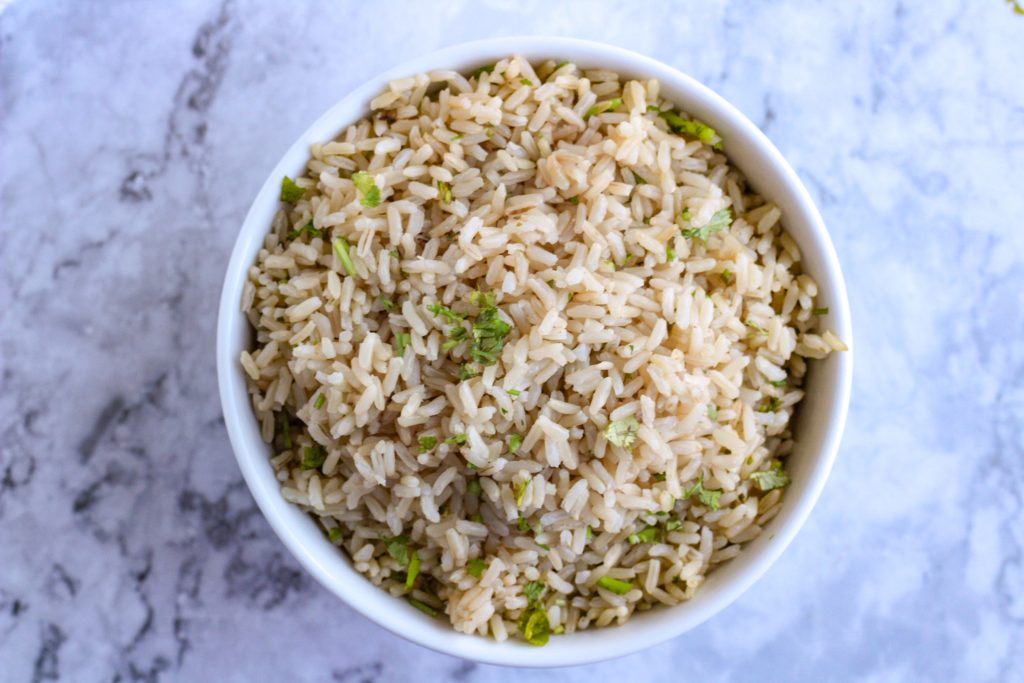 What if I don't have a rice cooker?
If you do not have a rice cooker, you can also cook the rice in a sauce pan. Make sure you follow the directions on the bag of rice precisely so you don't have any burn!
What do you eat this rice with?
We LOVE adding this rice to our homemade burritos! We pair it with some shredded chicken, fajita veggies and all the fixings! It is DELICIOUS and also provides you with a super easy weeknight meal!
Why do you use chicken broth?
Chicken broth adds so much more flavor to the dish than water. I always cook my rice in chicken broth, always.
If you love this recipe, you might also love:
Don't forget to follow me on Instagram! I update it daily with new recipes, kitchen tips, and much more! If you try one of my recipes, tag me on Instagram at @thebutteredgnocchi or use the hashtag #thebutteredgnocchi so that I can feature you!
Also check me out on Pinterest for more recipe ideas!
Cilantro Lime Rice
Fresh and herby cilantro, acidic lime juice mixed into brown rice creates the perfect side dish!
Instructions
Add in water and rice to the rice cooker. The amount of chicken broth depends on the directions for your rice cooker.

If you do not have a rice cooker, you can follow the directions on the package of rice for directions to cook on the stove.

Once rice is done cooking, add in the cilantro and lime juice.

Mix with a spoon while fluffing the rice at the same time. Then you are ready to serve.
Notes
Save in tupperware in the fridge for up to 2 weeks.
Nutrition
Serving:
0.5
cup
Calories:
173
kcal
Carbohydrates:
37
g
Protein:
4
g
Fat:
1
g
Saturated Fat:
1
g
Sodium:
2
mg
Potassium:
134
mg
Fiber:
2
g
Sugar:
1
g
Vitamin A:
7
IU
Vitamin C:
2
mg
Calcium:
16
mg
Iron:
1
mg
This post may contain affiliate links. By posting a product through these links, I may receive a small commission. Please know, I would never suggest a product that I don't use on my own and love! Thank you so much for your support, it helps me keep The Buttered Gnocchi up and running!