A dream. That is basically the best way to describe Nate and I's honeymoon in Mexico. We stayed at the Secrets Playa Mujeres all inclusive resort just north of Cancun, Mexico. We had an ocean front room and access to all of the preferred guest perks. We were wined, dined, and pampered and we loved it! My highlight was of course, the food. I was blown away with the fine dining quality we got in enjoy on a daily basis. In this post, I am going to be sharing all of the delicious meals Nate and I got to enjoy along with some of the fun highlights!
Once we arrived, we were immediately given a glass of champagne and were chauffeured down to the lounge to check in. This is where we were then given a margarita to enjoy as we went through the check in process. Talk about the best check in process ever! Once we got to our room, we were immediately greeted with room service including a lovely bottle of Champagne.
Bordeaux French Cuisine:
We started off with the French restaurant. I can't lie, this was one we didn't think we were going to like and it actually ended up being in our top 3 if not our favorite! It was phenomenal! We started off with a basket of bread. A croissant, an onion roll which was a croissant with caramelized onion baked in and a french bread with butter. The carb lover I am could have stopped right then and been satisfied.
For appetizers, I of course had to try one of my all time favorites, French Onion Soup. Oh my goodness, this restaurant takes French Onion Soup to the next level! The flavoring was so rich and sophisticated compared to what I am used to and you could definitely tell that more authentic French flavors were incorporated. Nate went for the Fried Mussels. The mussels were sautéed in white wine, butter, parsley and lemon. This rich flavor that came from the white wine butter sauce mixed with the delicacy of the mussels was divine. I found myself stealing a few from across the table while we ate!
Now for the main course. I had Thermidor Shrimp. The shrimp was chopped and mixed with a hollandaise sauce and veggies and topped with melted parmesan cheese. Now first of all, we all know I love a good hollandaise. After tasting this hollandaise, I never want another. It was so rich and buttery and had a little creamy flair. Mixed with the perfectly melted parmesan this dish was a dream. Nate got the Chicken Cordon Blue which was stuffed with ham, cheese, steamed vegetables, fried leeks and dipped in a robert sauce which had delicious hints of mushroom.
Dessert was also a showstopper. I love a good Creme Brûlée. This one was phenomenal. The inside had a delicious cream flavor with hints of orange and the sugar crust was perfectly flakey, crisp, and sweet. Nate got the Chocolate Souffle that was topped with coconut ice cream. The rich, warm souffle paired perfectly with the cool, creamy and fruity ice cream. Definitely an excellent dessert! We paired all of this with a delicious Mexican Sauvignon Blanc.
Seaside Grill
Our favorite lunch spot! This restaurant is right around the pool and was a great place to grab a delicious lunch! You were always greeted with a bowl of guacamole, a bowl of pico de gallo, and a bowl of spicy salsa served with a side of fresh, crispy tortilla chips. This was probably half of the reason we came here so much! We always ended up with a second serving of chips to go along with this!
We went here a few times and got to enjoy a few different appetizers! First up is the fried calamari with tartar sauce. I usually am not a big fan of larger servings of calamari, but let me tell you, this one was cooked so perfectly that it just melted in your mouth. And the tartar sauce that it is paired with was the perfect mix of creamy and tangy. Then we had the fish ceviche. This included fish filet pickled in lime juice coriander leaves, mint, basil, red onion and garlic. Oh my delicious! Next up we have the shrimp cocktail with mango pearls and avocado. I must say, the addition of the mango pearls was an extremely welcoming surprise. Then we have some buffalo wings! The chicken just melted in your mouth and were cooked to absolute perfection!
We then have the chicken tenders. I must say, I definitely enjoy a chicken tender with a ground chicken in it. Just my thing! So for me, these were heaven! This was served with pantai sauce. This sauce had a delicious sweet heat combination that was divine with the chicken tenders. Then we have the Arabic taco served with Tzatziki. This taco was delicious! Tender chicken served in a flour tortilla with a slaw on top. Phenomenal!
For our main courses we had first up, Al Pastor tacos. These were pork marinaded with anniato on a corn torilla with onions, coriander, roasted pineapple, lemon and a green sauce. We also had Placero Tacos which was chicharraon and crispy pork belly, cactus leaves, black beans, guacamole and cheese. Nate and I split both of these tacos and oh my goodness ere they delicious! Both are paired with some pretty interesting ingredients that all just tasted so natural together. Nate also got a Cuban sandwich. This sandwich was loaded with pork leg, ham, turkey sausage, a fried egg, oaxaca cheese, refried beans, onion, tomato, butter and mustard. I got the privilege of having a bite of this and oh my goodness, it was delicious!
Next up we have my veggie sandwich. It had chickpea hummus with paprika, grilled veggies, lettuce and tomato on olive bread. It was exactly the light, delicious sandwich I was craving by this point in the vacation (about halfway through I had this one)! Last up, Nate and I got a Mexican Pizza and a Margherita Pizza. Both had a nice, thing crust and were packed with delicious flavor! The perfect lunch to enjoy as we were still stuffed from breakfast!
Himitsu- Asian Cuisine
Tell us there is sushi and we will be there....twice. We went to Himitsu twice during our stay and was the only dinner spot we went to more than once. Rightfully so because the sushi was out of this world! This environment was also really relaxing too as the outside tables were seated right next to a beautiful reflection pool. The whole place felt serene.
At this restaurant, we were started off with a platter of spring rolls, dumplings, octopus croquettes and tempura shrimp. This was before we even ordered our first plate of sushi! We loved going back the second night where we got sushi and a main dish as well!
Let's talk sushi! Nate and I tried just about every single roll! And of course since I felt too far from home, I got the Philadelphia roll twice! On my first plate I got tuna sashimi which was super fresh and refreshing, a Philadelphia roll which was smoked salmon, cream cheese, avocado cucumber and sesame (an all time favorite of mine), and a danamita roll. The danamita roll was tempura shrimp, avocado, cream cheese, chipotle chili and tampico.
Nate's first dish consisted of the banana roll with was smoked salmon, shrimp, avocado, cucumber, and cream cheese all wrapped with fried plantain, the spicy tuna roll which had queso, wasabi, tuna tartar, cucumber and avocado, the spicy beef roll which was flank steak, chipotle sauce, avocado, cheese and cucumber and last but not least, a dragon roll which was breaded shrimp, masago, avocado, and mango sauce. These first two platters were amazing and pretty much all we could have hoped and dreamed for! Which is why we went back for round two!
For round two, we did get a lot of the same rolls as the first round. This time we did try the potato chips roll and the crispy king crab roll. The potato chips roll was surimi, avocado, cucumber covered in cream cheese and fried potato Juliana. The crispy king crab roll was breaded surimi, avocado, cucumber, cheese, sesame and a special tampico salad. For our main course, I got spicy chicken pad Thai. This Pad Thai was completely different than one I have ever had and I loved it! The spicy kick was unexpected but just worked so well. Nate got the pork belly ramen. This was delicious and had one of the most unique and delicious broths I have ever tasted!
Both times we went we got the tempura ice cream with hot fudge for dessert. This was an absolutely delicious, comforting way to end our meal! And it is absolutely beautiful, right? We also were treated our second time to a beautiful honeymoon platter with a wonderful note and a small serving of rice pudding which was divine!
Breakfast in Bed
We were also treated to a delicious, complimentary champagne breakfast in bed since it was our honeymoon. For this we both chose the eggs Benedict as our first course. The champagne hollandaise was absolutely to die for and it was all served with a side of tots. Delicious! We also both had french toast coated in cinnamon sugar and then served with fresh fruit on top. We also had a delicious side of chorizo. Such a wonderful way to start our morning!
Portofino- Italian Cuisine
We LOVED this restaurant! We had by far some of the best service all week and the food was phenomenal! We also treated ourselves to a delicious Gewurztraminer from France that really helped complete the meal! I started my meal off with a Garlic Cream Soup that had an addition of crostini which was wonderful to dip into the soup. This soup was delicious and way more flavorful than I had expected! Nate got a Minestrone soup that he said was easily one of the best he has ever had.
For the main course, I got a Shrimp Alfredo Fettuccine which was out of this world! It was packed with creamy goodness and topped with a ton of cheese! Nate got filet mignon in a hearty sauce. He got it cooked medium rare and it was absolutely perfect and oh so tender.
For dessert we were spoiled! We each got a cannoli to enjoy and then a tiramisu to split all presented on a beautiful wood platter with happy honeymoon written in a coffee based sauce. The cannolis were perfect crisp on the outside with a phenomenal creamy filling and the tiramisu just melted in your mouth! We loved it!
El Patio- Mexican Cuisine
El Patio was wonderful! We sat outside by the pool and had a really fun time! I started off with a mango margarita that was too pretty not to take a picture!
To start, I got a seared tuna tostada topped with a honey drizzle, creamy guacamole and a sesame foam. Talk about a fine dining presentation! The tun was seared to perfection and when mixed with the flavors of the honey, guacamole and foam, I was presented with a wonderful and refreshing combination of flavors. Nate had tortilla soup which was out of this world! The hearty broth mixed with the crisp of the tortilla and the coolness of the sour cream and avocado was perfection!
For the main course, I got pork belly and Nate got the mole. The pork belly was so tender and mixed with a delightful mix of spices. It was also served with tortilla so I could make a taco which I loved! Nate's mole was one of the best he has had! It perfectly encompassed all of the traditional flavors your would expect in a mole!
For dessert, we both got a churro that was topped with chocolate ice cream and a caramel crunch on top. It was absolutely delicious! The churro was fried to perfection and covered in cinnamon sugar and the ice cream paired perfectly!
Oceana- Seafood Lunch
We enjoyed this meal with another honeymoon couple we had met on the beach! We went for lunch and it was delightful! The restaurant overlooks the perfectly turquoise ocean and consists of all glass windows along the ocean side so you can truly admire its beauty.
To start our meal, we got shrimp ceviche. This was an extremely refreshing ceviche with lime flavoring and a little kick of spice. The baja fish tacos. This fish was batter to crispy perfection and then topped with a slaw and chipotle mayo. Absolutely delicious! Last, we had a traditional aguachile. This was fish in a delicious cucumber and herb based sauce. Talk about refreshing!
For the main course, I got charcoal grilled octopus with a chipotle aioli and served with some grilled potato. I was nervous about this one, I can't lie. I have always wanted to try octopus and it was on my bucket list so I know I needed to do it. Well let me tell you, I am so happy I went for it because it was easily one of my favorite meals I had during our honeymoon! The octopus was grilled to tender perfection and when dipped in the chipotle aioli, it created a combination of flavors that was pure bliss. Nate has a New Orlean's style seafood Jambalaya. This spicy dish was delicious, hearty and packed with tons of seafood! Being a huge Jambalaya lover, this was right up Nate's alley!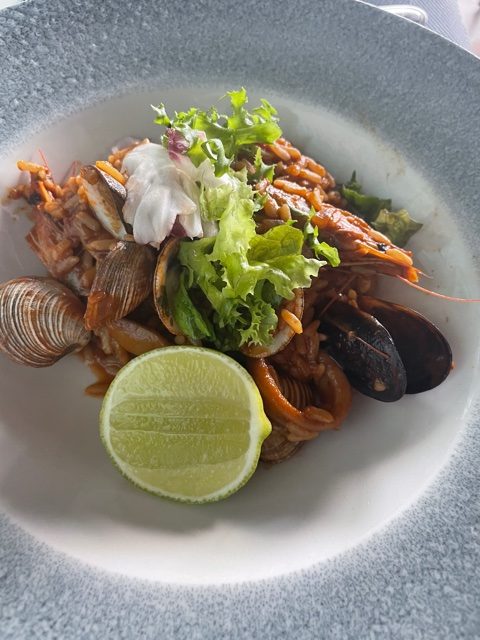 Last, but not least, I ended this meal with a delicious lemon mousse. This was stuffed with pear and mint and was DELICIOUS!
Oceana- Breakfast
We also enjoyed a breakfast one morning at Oceana! Since we were preferred club members, this was a perk we were able to enjoy! We both got the Eggs Benedict for this breakfast. The Hollandaise sauce was made with champagne and created a perfectly rich flavor. Absolutely one of the best Eggs Benedict I have ever had!
Romantic Dinner on the Beach
One of our favorite nights and best dinners of the week was our romantic dinner we got to enjoy on the beach. This was apart of our honeymoon package but can also be enjoyed by any guest for an additional fee. We got there right at dusk (our reservation was 7:00) which was perfect because we got to be there as the day slowly turned into night. (Which is also reflected in my photos). Definitely a night we will never forget!
We started this meal off with a shrimp salad rangoon. The crisp outer layer was stuffed with a delicious shrimp salad. It was absolutely delicious and a perfect light and refreshing way to start out our meal!
For our next course, we had fried mussels in a chardonnay cream sauce. This is the dish that still sticks out in my head. I love mussels but that cream sauce, oh my goodness it was perfection. It was so rich, flavorful and paired perfectly with the mussels. Truly one of the best things I had ever eaten hands down.
Definitely a little hard to see, but our next course was filet mignon in a red wine sauce with mashed potatoes. Delicious. Absolutely delicious! The cut of filet was cooked perfectly and just melted in your mouth. We both loved it and ate every last bite!
We ended our meal with a delicious, rich dark chocolate mousse with a beautiful presentation. The mousse was creamy, divine and just melted in your mouth. This was truly a delectable meal and we felt so spoiled being wined and dined on the beach. The whole experience was about 2 hours and they really made sure we were able to truly enjoy the experience. The wait staff was so kind and made sure that we were catered to the entire time! I highly suggest treating yourself to this dinner and if it is already included in your package like it was for us, make sure you do it!
Swimming with Dolphins
Easily one of my top moments of the honeymoon. Swimming with dolphins has been a dream of mine and one of the top priorities on my bucket list since I was a kid. I am so happy that we did it and we had so much fun! We did a couples package so it was a private session for just Nate and I. Definitely a very cool experience!
This trip was a dream. We highly recommend Secrets Playa Mujeres Golf Resort and Spa to any honeymooners or couples looking for a romantic getaway! We definitely hope to find our way back in the future so we can dive in and explore even more!